Initiative Offers CPR Training in Malls across Abu Dhabi
Cleveland Clinic Abu Dhabi is taking a Roadshow highlighting its award-winning Emergency Department, bringing its expertise to shopping malls and high-traffic areas across the emirate, in a health education campaign that will run until the end of 2018. 
The campaign will use a special booth to educate the community about what to do in emergency situations. Cleveland Clinic Abu Dhabi's team of Certified American Health Association, cardiopulmonary resuscitation (CPR), trainers will show people how CPR is performed and there will be the opportunity to practice on training manikins.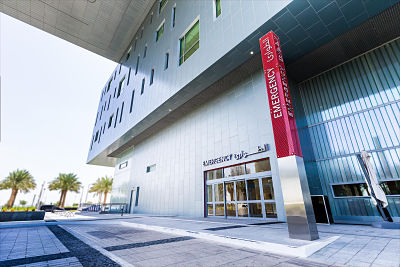 The team of CPR trainers will provide hands-on coaching to the public, demonstrating how and when to give chest compressions to keep the heart pumping until the emergency services arrive. 

Beginning at Abu Dhabi Mall on July 12, the Emergency Department Roadshow will travel to other destinations throughout the year. Training sessions will be open to all. 

Dr. Jacques Kobersy, Chair of the Emergency Medicine Institute, Cleveland Clinic Abu Dhabi, stresses the importance of the first 10-15 minutes of care in emergency situations. 
"Rapid response is important in emergency situations, whether it is a stroke, an accident, or a heart issue. People should take immediate action and seek medical attention as soon as possible. The aim of the roadshow is to educate people and ensure everyone knows that our emergency department is open to anyone who requires our help," he said.  
When patients arrive at Cleveland Clinic Abu Dhabi's Emergency Department, there is a highly efficient three-step process that ensures they see a doctor within minutes. When describing the process for receiving patients, Dr. Kobersy explained, "They are brought straight back to a treatment room, where they are evaluated by the nurse and emergency medicine physician together.  This promotes good communication, and ensures we start helping them from the moment they arrive.  Interpreters are also available 24 hours in the Emergency Department."
The Emergency Department at Cleveland Clinic Abu Dhabi was set up to address the needs of the rapidly growing city. Designated by the Department of Health as the official Stroke Center and Chest Pain Center for the emirate of Abu Dhabi, Cleveland Clinic Abu Dhabi provides specialist and timely care to those who need it.