Cleveland Clinic Abu Dhabi expands clinical trial efforts to address community health issues and enhance medical care in the UAE
Cleveland Clinic Abu Dhabi, a Mubadala Health partner, is setting the benchmark for research by leading groundbreaking observational and interventional studies focused on diagnosis, prevention and therapeutics. Cleveland Clinic Abu Dhabi's research department, comprising a specialized multidisciplinary research team, has developed several studies that are aimed at reducing the impact of major diseases on community health. The department has over 200 active research studies, out of which 60 were initiated in 2022. The studies on critical topics relating to digestive diseases, neurological and heart ailments, among others, are sometimes undertaken in partnership with various other local and regional institutions.
In line with the Department of Health – Abu Dhabi's drive to improve the overall healthcare of the UAE's population, the hospital aims to leverage this research as part of its wider efforts to advance treatment options in the UAE and the GCC region in collaboration with other partners and stakeholders in Abu Dhabi.
Three studies are currently underway that target liver health, breast cancer and obesity. All three studies are dedicated to the Emirati population and use a genome-based approach, which is focused on genome or DNA data. Through this method, findings can be compared and validated to accelerate the development of new treatments and personalized healthcare options for these medical conditions. Cleveland Clinic Abu Dhabi urges the public to ensure the success of such endeavors by registering as participants in future clinical trials.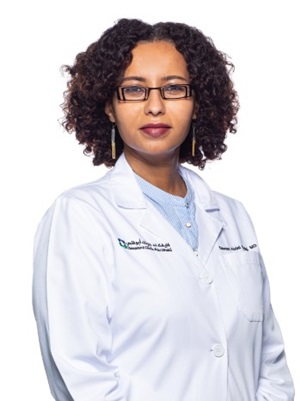 Dr. Sawsan Abdel-Razig, Chief Academic Officer at Cleveland Clinic Abu Dhabi, said, "Our mission at Cleveland Clinic Abu Dhabi is to deliver world-class care to the UAE community and wider region. Together with our multidisciplinary team, our research department is collaborating with universities and other strategic partners to advance healthcare in the community. Through our wider education and research efforts, we are investing in the next generation of clinical caregivers and healthcare leaders to develop new treatments, advanced diagnostics, and preventive care options that will benefit the UAE population for years to come."
The first of the three studies is taking place in collaboration with Imperial College London Diabetes Centre, an M42 company, and is the first prospective metabolic study on the Emirati population, that looks at obesity, diabetes, and fatty liver disease. In collaboration with Khalifa University, the second study explores obesity and bariatric surgery and is the first genetic study on metabolic disease.
Finally, a pilot study focusing on breast cancer health awareness among Emirati women aims to determine the disease pattern within the local population and drive awareness around the need for regular mammography screening.
All three studies aim to enhance medical care in the UAE and have been made possible by the involvement of numerous research participants. Cleveland Clinic Abu Dhabi's research projects and studies comply with rigorous guidelines set out by the Department of Health – Abu Dhabi. Participants in these research projects are treated according to the highest safety standards and with the strictest confidentiality protections in place.
To register interest or participate in one of Cleveland Clinic Abu Dhabi's clinical trials, please email: [email protected].
For more information, or to book an appointment at Cleveland Clinic Abu Dhabi, call 800 8 CCAD (2223), visit www.clevelandclinicabudhabi.ae or download the Cleveland Clinic Abu Dhabi Patient Portal App.