Ahead of World Heart Day, Cleveland Clinic Abu Dhabi's Awareness Campaign Highlights the Importance of Healthy Habits at an Early Age
The road to heart health starts with a focus on a well-balanced diet, physical activity and quality sleep from a young age, according to experts at Cleveland Clinic Abu Dhabi, part of Mubadala's healthcare network.
Cleveland Clinic Abu Dhabi is encouraging people to take small steps for a healthier heart with a new awareness campaign, 'What makes your heart beat?' Residents can find more information about cardiovascular disease, risk factors, treatment options and tips to lead a healthy lifestyle on www.heartbeat.clevelandclinicabudhabi.ae.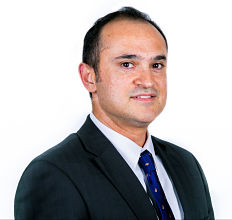 Dr. Faisal Hasan, a Staff Physician in the Heart, Vascular & Thoracic Institute at Cleveland Clinic Abu Dhabi, says that advanced heart problems and heart attacks are becoming more common in younger people due to poor lifestyle habits.

"In this region, we see patients presenting with severe heart conditions almost a decade earlier than in the West. We see a significant number of patients in their 30s and 40s with cardiovascular problems and in some rare instances even earlier," says Dr. Hasan.
Cardiovascular disease (CVD) is the leading cause of mortality worldwide and in the UAE. Many major risk factors, such as high blood pressure and cholesterol, smoking, diabetes, obesity and physical inactivity, can be controlled early in life and lower the risk of heart disease at a later stage. A 2019 survey of 1,000 residents in the UAE by Cleveland Clinic Abu Dhabi found that 71 per cent respondents have at least one major risk factor for heart disease.
"Caring for the heart and prevention of disease should start early. By the time people are in their 40s and 50s, it is sometimes too late to reverse a lot of the damage done. Habits of a healthy diet and adequate activity levels need to be instilled earlier," says Dr. Hasan.
"There is also a very high prevalence of smoking among youngsters here. This is another major contributor for ischemic heart disease, a condition where plaque builds up inside the coronary arteries, obstructing blood flow to the heart muscle and ultimately causing a heart attack."
He adds that another often overlooked risk factor for heart disease is good quality sleep: "Often times I see teenagers out late in the evening at the mall, which means that they are unable to get the right amount of sleep. Irregular and insufficient sleep increases the risk of cardiovascular disease because it disrupts biological processes like glucose metabolism and blood pressure."
Heart health challenges have been exacerbated in 2020 due to movement restrictions and changes in routine necessitated in response to the global pandemic. Many people postponed check-ups and hospital appointments in the early part of the year, and the team at Cleveland Clinic Abu Dhabi are optimistic that the 'What makes your heart beat?' campaign will encourage people to come in and discuss any concerns.
For more information or to book an appointment at Cleveland Clinic Abu Dhabi, call 800 8 CCAD (2223) visit www.clevelandclinicabudhabi.ae or download the Cleveland Clinic Abu Dhabi app.