Cleveland Clinic Abu Dhabi Performs UAE's First Whole Lung Lavage
Physicians at Cleveland Clinic Abu Dhabi have performed the UAE's first whole lung lavage procedure to remove protein deposits in a patient's lungs, enabling him to breathe freely again.
The patient, M.M., had found that his breathing had been getting progressively worse and he was admitted to a hospital in Al Ain. After a month in intensive care, a biopsy found the cause of his worsening condition. He was suffering from pulmonary alveolar proteinosis (PAP), a rare lung condition that causes protein deposits to build up in the alveoli of the lungs, blocking the transfer of oxygen into the blood. 
Without treatment, M.M.'s breathing would worsen until he entered life-threatening respiratory failure. His care team determined that he should be transferred to Cleveland Clinic Abu Dhabi, as the hospital with the experience and capacity to treat his condition.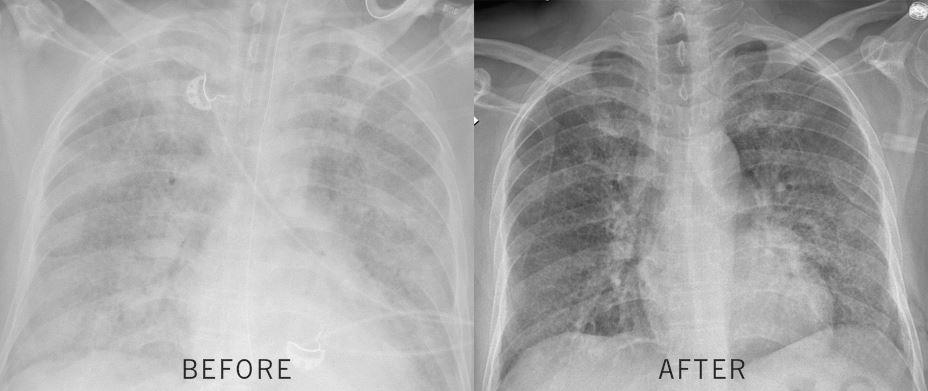 "I received a call late at night explaining that there is a patient in Al Ain in a very serious condition. His breathing was deteriorating rapidly, and, without treatment, his lungs would fail entirely before long. Knowing that we have the right team in place to successfully treat him, we arranged for him to be transferred to our care immediately," said Dr. Redha Souilamas, Chair of Thoracic Surgery in the Heart & Vascular Institute​ at Cleveland Clinic Abu Dhabi. 
Upon the patient's arrival, it was determined that he had an infection and he was transferred to the respiratory intensive care unit for an intensive course of antibiotics. After two days, he was cleared to undergo surgery. 
During the more than four-hour operation, the surgical team, led by Dr. Redha Souilamas, first connected M.M to a temporary artificial lung outside his body using a minimally invasive approach. This ensured that his blood would continue transporting oxygen to his organs while his lungs were washed. The team then pumped warm saline into his lungs. 
As the saline drained, it washed the protein deposits away, clearing the way for his lung function to return to normal. The team used 26 liters of saline during the procedure.
"The patient's treatment was a truly multidisciplinary endeavor," said Dr. Redha. "A team of caregivers from across thoracic surgery, pulmonology, anesthesia, interventional radiology, ICU and respiratory therapy came together to determine a treatment plan and conduct the procedure. I am very proud that we have been able save M.M's life, allowing him to return to work and his family." 
Drs. Mateen Uzbeck and Ali Wahla, pulmonologists in the hospital's Respiratory Institute, played key roles in the patient's treatment alongside Dr. Dominique Prud'homme​, chief of cardiothoracic anesthesiology at Cleveland Clinic Abu Dhabi.
Following the successful procedure, M.M was transferred to the cardio-thoracic ICU. The following day, he was disconnected from the artificial lung and his breathing has returned to normal. 
His long stay in intensive care units struggling for breath has left him feeling weak. His care team at Cleveland Clinic Abu Dhabi are monitoring his progress and supporting him with physiotherapy. Once he has recovered fully, he intends to return home to Bangladesh to visit his wife and daughter before returning to his work as a driver in Al Ain.
"I am so thankful to my doctors at Cleveland Clinic Abu Dhabi. I was so scared that nothing could save me. After so many weeks in hospital, I was beginning to lose hope and just wanted to go home to my family and see if I could find treatment there. Thankfully, Dr. Redha agreed to take my case and now I am feeling much better and I can visit my family in good health," says M.M.