Cleveland Clinic Abu Dhabi experts say poor lifestyle choices and unhealthy habits contribute to weakened pelvic floor muscles
​An increasing number of youngsters are suffering from pelvic floor dysfunction caused by chronic straining from constipation, according to experts at Cleveland Clinic Abu Dhabi, part of Mubadala's healthcare network. 
The Pelvic Floor Program at Cleveland Clinic Abu Dhabi includes colorectal surgeons, gastroenterologists, urologists, physical therapists, radiologists, and nursing staff. The medical team conducts a series of specialized physical exams and investigations, such as dynamic MRI tests to identify issues of constipation, incontinence or prolapse – when organs in the pelvis slip down from their normal position – and manometry and sensory testing to evaluate the strength of the muscles before recommending a treatment plan to patients, as well as anal physiology to identify the reasons behind these issues to determine a treatment plan.
The pelvic floor is the group of muscles and ligaments that acts like a sling to support the pelvic organs, including the bladder, rectum, and uterus or prostate. Having strong pelvic floor muscles allows for control over the bladder and bowel movement. The inability to correctly control or coordinate the muscles in this area can cause difficulty. Most common causes of weakened pelvic floor muscles are childbirth, surgeries, obesity and straining due to chronic constipation. 
Cleveland Clinic Abu Dhabi experts say they are now seeing patients as young as 18 seek treatment for pelvic floor disorders caused due to poor habits.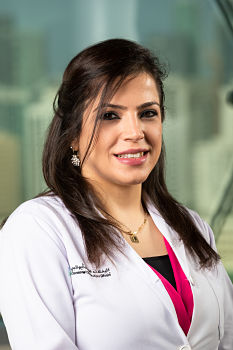 "Most people think that constipation is an inborn issue and they cope and ignore until it is more advanced and begins to affect their quality of life. The team investigates the problem thoroughly to offer the right care, be it non-surgical or surgical," says Dr. Lameese Tabaja, a Colorectal Surgeon at Cleveland Clinic Abu Dhabi's Digestive Disease Institute, who is also part of the multidisciplinary team for the Pelvic Floor Program at the hospital. 

"We are seeing more and more young patients with the issue. The problem is that constipation is so common that people come to accept it as part of their life and over time the straining can cause pelvic floor dysfunction. As they age, it can lead to further problems, including pelvic pain."
In about 80 per cent of the cases, Dr. Tabaja says, physiotherapy is the solution. "Although pelvic floor issues can be a complex problem sometimes the proper treatment can be so simple and comfortable to the patient and make a significant difference. Most patients can be treated without surgery. We always start them on specialized pelvic floor physical therapy, and only if that fails, we suggest more aggressive treatments. It is very important that patients be seen by a multidisciplinary team to get an evidence-based solution for their pelvic floor disorders."
Elif Dalkilinc, a senior physical therapist at Cleveland Clinic Abu Dhabi says recent research shows that people who suffer from constipation in childhood may develop chronic pelvic pain as adults. 
"Muscular tension, that is keeping them contracted for a long time, can lead to poor pelvic floor function," she says.
The physiotherapist uses biofeedback, a technique that helps patients learn to strengthen or relax their pelvic floor muscles to improve bowel and bladder function. 
"This is a simple portable device that uses special sensors and a computer monitor to provide information about muscle activity. This is important because the patient can see what muscles are being worked and we can teach them proper contraction or relaxation of the muscle. Biofeedback training is very efficient intervention to improve pelvic floor muscle control"
Dalkilinc says regardless of the diagnosis, she educates patients about healthy lifestyle habits and proper toilet techniques. She also works on their hip and spinal mobility, general alignment of the body, posture and prepares a special exercise program that they can follow at home.
For more information or to book an appointment at Cleveland Clinic Abu Dhabi, call 800 8 CCAD (2223) visit www.clevelandclinicabudhabi.ae or download the Cleveland Clinic Abu Dhabi app.